Are injuries inevitable when returning to sport?
With the arrival of spring, many people are thinking of taking up running, cycling or any other sport. Physical activity is an excellent way to get some exercise and recharge your batteries, a time for yourself, where you can put your feet up and take a break. his body in motion and his mind alert.
While playing sport is obviously good for your health, it can sometimes be painful and lead to injuries. However, this is not inevitable, as the majority of sports injuries can be avoided quite simply. A good physical preparation, a training adapted to your capacities and an adequate equipment should allow you to take the rhythm without difficulty.
By being listening to your bodyyou will be able to better understand your functional balance and avoid injuries when returning to sport.
Which parts of the body are more prone to injury?
From minor "boo-boos" to more disabling injuries, certain parts of the body are particularly prone to sports injuries. If the muscle tensions are recurrent during the season, sprains and tendonitis are also among the main injuries among athletes.
It must be said that ankles are often put to the test, regardless of the activity practiced. This joint plays a major role, as it ensures the transmission of movement and forces. The ankle guarantees physical balance by receiving loads up to several times the body weight. In a previous article we talked about this joint.
Trail running does not spare runners' ankles, we explained how to relieve the pain generated by this sport. You can find this article by clicking on this link: Runners' ankles.
How to optimise preparation and prevent the risk of injury
In the first instance, the most effective prevention is still togetting to know yourself and listening to your body. Measure your efforts and respect your limits in order to be able to keep going in the long term and in the best possible conditions. Hydrate sufficiently, before, during and after each session. Don't neglect the warm-up, and make sure you have the right equipment.
Here are some additional tips to prevent the risk of sprains or tendonitis.
Prepare the dowels
To complete the prevention process, use the STIMCARE patches on your ankles. To resume physical activity in complete safety, prepare for a major trail run or to protect an ankle weakened by previous sprains, the patches provide a real solution. As a preventive measure, placing the patches allows you to rebalance your posture and improve proprioception of the ankle in movement. Position the patches by following this tutorial and resume training with peace of mind.
Relieve muscle, ligament and joint disorders with STIMCARE
Simply apply the patch by following our tutorial videos, available just here to guide you through each step.
If you have any questions regarding the application of the patch, please send your request to sante@stimcareonline.com. A therapist trained and certified in the application of the STIMCARE patches is available and will take the time to answer you.
Preparing the Achilles tendons
Tendons should also be protected to limit the risk of inflammation and recurrent tendonitis. Again, follow the step by step video tutorialby applying patches on key points. Here again, the preventive action of the STIMCARE patches allows you to quickly release tension, prevent inflammation and avoid the risk of disturbances in the tendon area.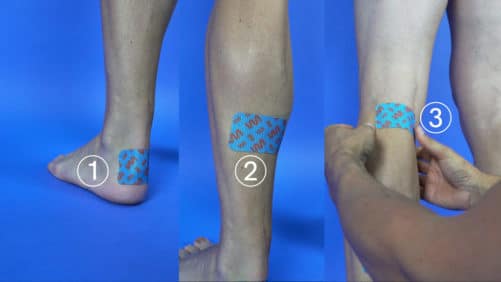 Whatever sport you practice, remember to maintain an adapted physical preparation ritual, always listen to your body and respect your limits, and finally, use STIMCARE patches to prevent the risk of injury and achieve your goals.